Vediamo infinite opportunità per rendere la logistica sempre più innovativa.
Ampliamo costantemente i confini del possibile, dando vita ad opportunità rivoluzionarie grazie a:
Una solida reputazione come partner di fiducia per la gestione dell'outsourcing delle più grandi aziende
Un'esperienza riconosciuta come innovatori nell'automazione avanzata del magazzino e nella robotica
Soluzioni personalizzate su misura per le esigenze dell'ecommerce, del retail e dell'industria
La dimensione, la flessibilità e l'esperienza per fornire risultati eccellenti in modo costante
La volontà di creare un ambiente di lavoro eccezionale per il nostro team eterogeneo
La nostra tecnologia
Innovazioni ed automazioni rivoluzionarie
Utilizziamo il machine learning, la data science e l'analisi predittiva per trasformare la logistica in un vantaggio competitivo per i nostri clienti.
Le nostre soluzioni
Progettiamo, gestiamo ed ottimizziamo le supply chain
Aiutiamo i clienti ad ottimizzare l'efficienza della supply chain, migliorando il flusso delle merci: dall'evasione degli ordini ecommerce alla distribuzione flessibile e dall'automazione del magazzino alla reverse logistics.
I nostri settori
Dall'ecommerce, all'aerospaziale, al food&beverage
L'esperienza maturata per decenni in paesi, settori e mercati finali più diversi ci consente di aiutare le aziende — da quelle che stanno entrando nel mercato ai leader mondiali — ad operare con maggiore efficienza.
I nostri valori
Impatto positivo per i nostri dipendenti, partner e per il nostro pianeta
Teniamo conto dell'impatto ambientale e sociale in tutto ciò che facciamo, che si tratti di costruire percorsi di carriera che contribuiscano alla crescita dei nostri team eterogenei o di progettare operazioni che riducano i consumi energetici ed aumentino la sostenibilità ambientale. I criteri ESG sono essenziali per la nostra operatività.
Chi siamo
Esperti di logistica
I nostri team vivono e respirano logistica. I nostri manager vantano decenni di esperienza nell'offerta di soluzioni ad alto contenuto tecnologico, in grado di soddisfare i più esigenti requisiti logistici. Siamo considerati partner fidati dalle aziende mondiali di maggior successo.
Numeri chiave
Siamo il più grande provider di contract logistics al mondo ed utilizziamo la nostra dimensione per fornire ai nostri clienti i risultati di cui hanno bisogno.
Risultati
4-6x
Miglioramento della produttività, grazie ai team supportati dai robot
5x
Più articoli spediti utilizzando l'automazione robotica nel 2020 rispetto al 2019
5-7%
Miglioramento medio dell'efficienza lavorativa grazie al machine learning
I riconoscimenti che ci rendono orgogliosi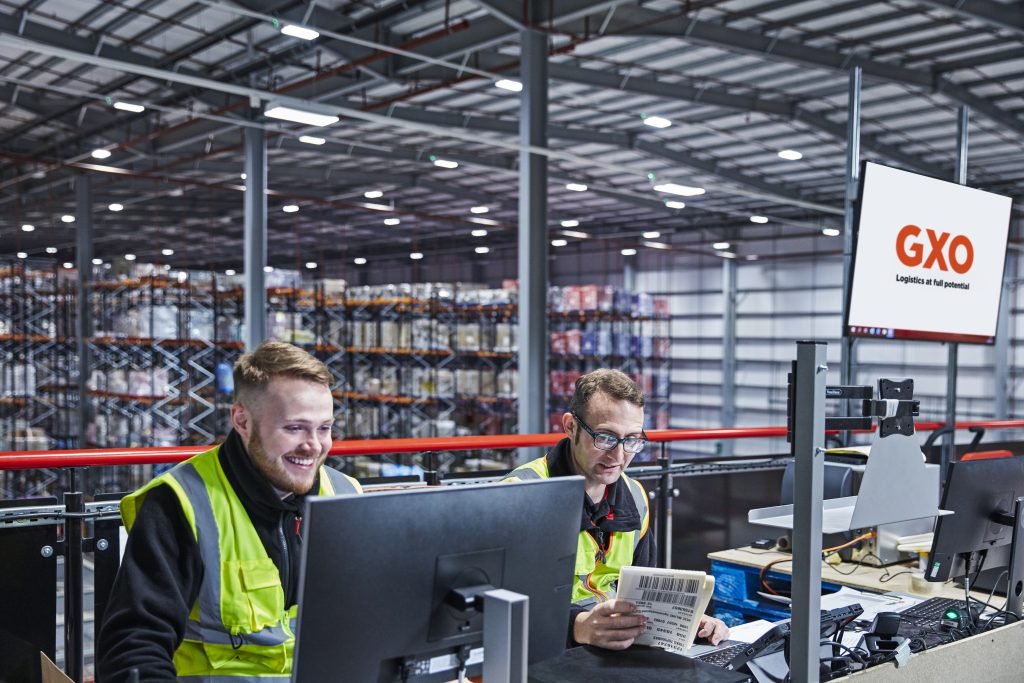 Unisciti a noi
Carriere a pieno potenziale
Ovunque nel mondo, ci impegniamo con passione ed utilizziamo la nostra tecnologia per rendere le supply chain più intelligenti. Siamo entusiasti di poter accogliere nel nostro team persone proiettate nel futuro. Vi interessa saperne di più? Parliamone.
investitori
An industry powerhouse with a sole focus on logistics
Comunicato stampa
Warsaw, Poland | Gen. 20, 2022
GXO e l'Università Kozminski implementeranno un programma educativo che include lezioni, programmi di stage ed il reclutamento per posizioni in GXO.
Blog
Letitia King James, VP, Diversity, Inclusion and Belonging
Letitia King James, Vice President Diversity, Inclusion and Belonging riflette sull'eredità di Martin Luther King e su come i DREAMS prendono forma in GXO.
Comunicato stampa
Warsaw, Poland | Gen. 13, 2022
GXO espande la partnership con zooplus grazie all'apertura di un hub ecommerce automatizzato in Repubblica Ceca
Ricevete gli ultimi aggiornamenti
sulle novità della logistica